Sharing Christ in word and deed
To beat the heat, the time for Park and Pray car worship is now 9AM
The Book Sale has been cancelled for 2020 due to the Caronavirus pandemic.  We regret the loss of revenue to the charities supported by the book sale.  Please give generously to Habitat for Humanity and other non-profits.  The work they do continues to require resources even as fund raising opportunities diminish.
Join us for Park and Pray Worship each Sunday at 9AM.  Gather in the parking lot.  Please remain in your car for the time being.
The service will be broadcast via speakers.

The hard of hearing will be given a priority parking spot.

A notice will be placed here after 7:00AM if gathering in the parking lot is canceled due to inclement weather.  Join us on Facebook Live at 9AM if gathering outside is canceled.
Worship will be on Facebook Live at 9AM  as well.   The service will be downloaded to YouTube and the Website sometime Sunday afternoon.
In order to keep our faith family and neighbors safe, Trinity Lutheran Greencastle will refrain from physical gatherings inside the building until further notice.  For now, love looks like social distancing.  We don't want to begin gathering too soon and put anyone at risk for contracting the virus and/or potential death. We will continue to keep you informed with information as it becomes available.
PARK AND PRAY Car Worship is ON  beginning  Sunday,  June 28
The Congregation Council prayerfully considered options for gathering in person as Franklin County moves to the green phase in response to the virus.
The decision was made to avoid using the building space and gather in the parking lot for worship.  We will begin slowly to give ourselves time to evaluate the situation and make changes as needed.  Our priority is the health and safety of our faith family and neighbors.
How it will look:
Parking Attendants will wear masks, hand out bulletins and direct you to your parking space.
For now, PLEASE STAY IN YOUR CAR. Eventually, we plan to move to sitting outside in lawn chairs but not yet.
All access to the church will be locked except for the side door with access to the bathroom.
All stalls will be taped off except for 1 stall and 1 sink in the men's and women's bathroom. Only 1 person may use the bathroom at a time.  The bathrooms will be disinfected before and after each worship by the health team.
Anyone entering the building on Sunday for any reason will wear a mask.
The worship team will lead worship from the portico.  The service will be broadcast through the parking lot by speakers.  Put your window down in order to hear and participate.
The first few services will be Service of the Word with no Communion.  The Worship and Music team is exploring ways to serve Communion safely.
The worship will also be taped and available on You Tube, the website and Facebook.
Renewal is in the air!
Trinity is renewing with God's help through the R3 intentional program of renewal.
We are learning how faith matters in real life through vocational interviews each Sunday.
We just completed conversations exploring the Assets, Wows and Needs within our congregation and neighborhood.
In March the renewal team will share our responses.
March 22nd come enjoy a potluck lunch after worship and explore ways in which God is calling us to deeper ministry with each other and our neighborhood.
Continue to fill out the slip of paper in your bulletin each week sharing where you've seen God.  Place it in the renewal box in the narthex.
Hold onto your hat!  The Holy Spirit is moving at Trinity.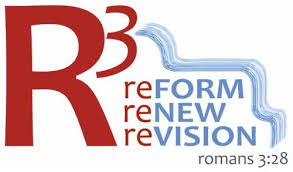 Trinity is moving forward!                                                                                   We now have a Vision AND a Logo.
TLC Renews
Trinity is a congregation who continues to:
Trust God
Love and Connect with God and each other.
Reaching out to all God's children
so that we continue to Share Christ in Word and Deed.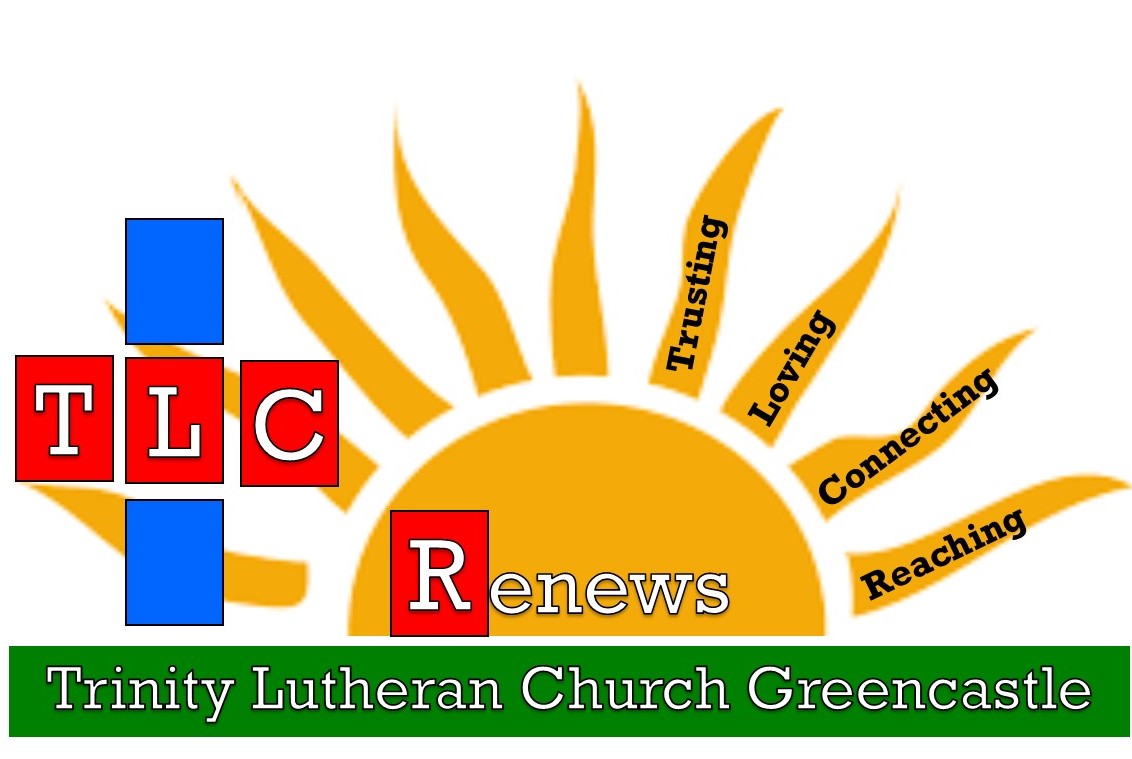 Come and experience the love of God in Christ Jesus with us.
Trinity is
. . . A Place to Worship . . .
. . . A Place to Grow in Your Faith . . .
. . . A Place to Use Your God Given Gifts In New Ways!
Join Us!
If you're curious about what a truly nurturing community of believers is like, then you should come to the Join Us section to find out how you can get involved. We look forward to welcoming you in our fellowship.
"New Doors Opening"
Check out the New Doors Opening site which helps in the area of life issues and spirituality. This site will change several times during the year.
What is the ELCA?
Find out about the Evangelical Lutheran Church in America and the history of this wonderful organization on our What is ELCA page.
 1186 Jason Drive, Greencastle, PA 17225
717-597-9348
  Sunday Worship at 10 am;  Fellowship begins 9:15 am
Sunday School for all ages:
8:30 am (except June-August)
When Visiting Trinity You Can Expect
A warm and welcoming environment
Structured worship with Biblical and relevant preaching
10 AM Worship on Sunday
Blended Traditional and Contemporary/Informal Music style
Celebration of Holy Communion every Sunday.
A time of fellowship to connect with others before service at 9:15 AM
Educational opportunities for all ages at 8:30 a.m (except June – August)
A follow-up visit by someone from the congregation and an invitation to return
Visit Us
Trinity Lutheran Church is a congregation of
the Evangelical Lutheran Church in America (E.L.C.A)
and the Lower Susquehanna Synod (L.S.S. - E.L.C.A)