Sharing Christ in word and deed
Welcome to the Time After Pentecost.  It's the green time of the church.  We spend the time until Advent exploring what it means to follow Jesus.  Through our relationship with God, we grow more fully into who we were meant to be: beloved children of God living and loving as Jesus would have us do.  Come join us!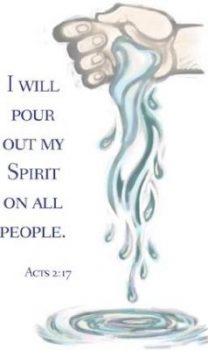 Suicide Prevention Workshop:  Thursday, July 22 at 7PM
The workshop is facilitated by Kay Martin, Keystone Health Community Liaison.  The training is called QPR.  QPR stands for Question, Persuade, and Refer – 3 simple steps that anyone can learn to help save a life from suicide. Just as people trained in CPR and the Heimlich Maneuver help save thousands of lives each year, people trained in QPR learn how to recognize the warning signs of a suicide crisis and how to question, persuade, and refer someone to help.  Suicide rates are climbing!  Come join us and help save lives.
If you would prefer to meet by zoom rather than in person, please call Trinity at 717-597-9348.  A link will be emailed to you.
Principles
Using the information from conversations with the congregation about our assets, wows and needs, the renewal team discerned these principles for Trinity moving forward.  We will use these principles as lens through which to evaluate ministry opportunities moving forward.
Passionate about God
Feeding the hungry physically, emotionally and spiritually
Open, welcoming and friendly
Courage to creatively use our gifts in the community
Priorities
The renewal team also identified these current priorities for ministry for Trinity
Internal:  Renew and deepen our connection with each other in the family
External:  Renew and deepen our connection with our neighbors in the community and continue working with the Food Pantry
---
Bible Study – Book of Romans
How are we called to respond to God's  abundant gift of unconditional love and grace?
We meet on Wednesdays at 11 both via Zoom and in person
Call the office 717-597-9348 for Zoom meeting information or join us in the Conference Room.
Fully vaccinated people do not need to wear masks.
A new worship video is added:  Sunday, July 25, 2021
Worship Videos
Worship Videos
Principle of the Month:  Trinity is open, welcoming and friendly
At our core we are passionate about God.  God's love anchors who we are and how we are with one another and our neighbors.
Bring a Friend Sunday is July 25th.  Invite a friend to join you for worship and stay for fellowship time after the worship service.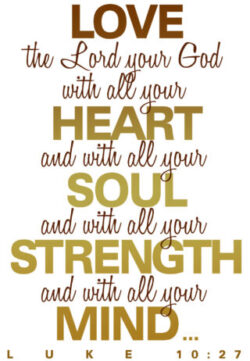 We gather in the sanctuary at 10AM.
On-line Worship is offered on Sundays at 10AM via Facebook Live.  The worship services will  be downloaded after the services to YouTube (click on TLC Greencastle PA) and can also be accessed on this website.
In conversation with our medical partners, Council will introduce the following changes to Covid restrictions at Trinity based on new guidelines from the CDC.  The CDC guidelines are posted on the bulletin board.
These changes will become effective Sunday, June 27.
Fully vaccinated people may gather for worship without masks.
The left section (sound room side of the church) will remain taped with masks required.
The other two sections will have the tape removed and be mask optional.
The first three pews of the right side will continue to be blocked off to provide the necessary distance for lead singers who aren't vaccinated. The lead singers will be singing without masks.
Fully vaccinated people may sing without masks.
Hymn Books will be placed back in the pews.
For now, pre-packaged Communion kits will still be used. (We realize these kits aren't ideal but they are safe.  It might be helpful if before the service, you begin the process of pulling off the top layer to reveal the host.)
Renewal is in the air!
Trinity is renewing with God's help through the R3 intentional program of renewal.
Beginning in Feb 2021, Members of the renewal team will meet with various teams and committees challenging them to find a way for us to connect with one another or our neighbors.  The team will provide tools for planning.
Call the office or comment on Facebook each week sharing where you've seen God.
Hold onto your hat!  The Holy Spirit is moving at Trinity.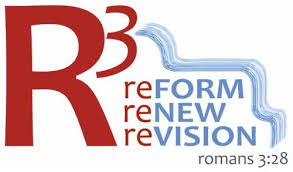 Trinity is moving forward!                                                                                   We now have a Vision AND a Logo.
TLC Renews
Trinity is a congregation who continues to:
Trust God
Love and Connect with God and each other.
Reaching out to all God's children
so that we continue to Share Christ in Word and Deed.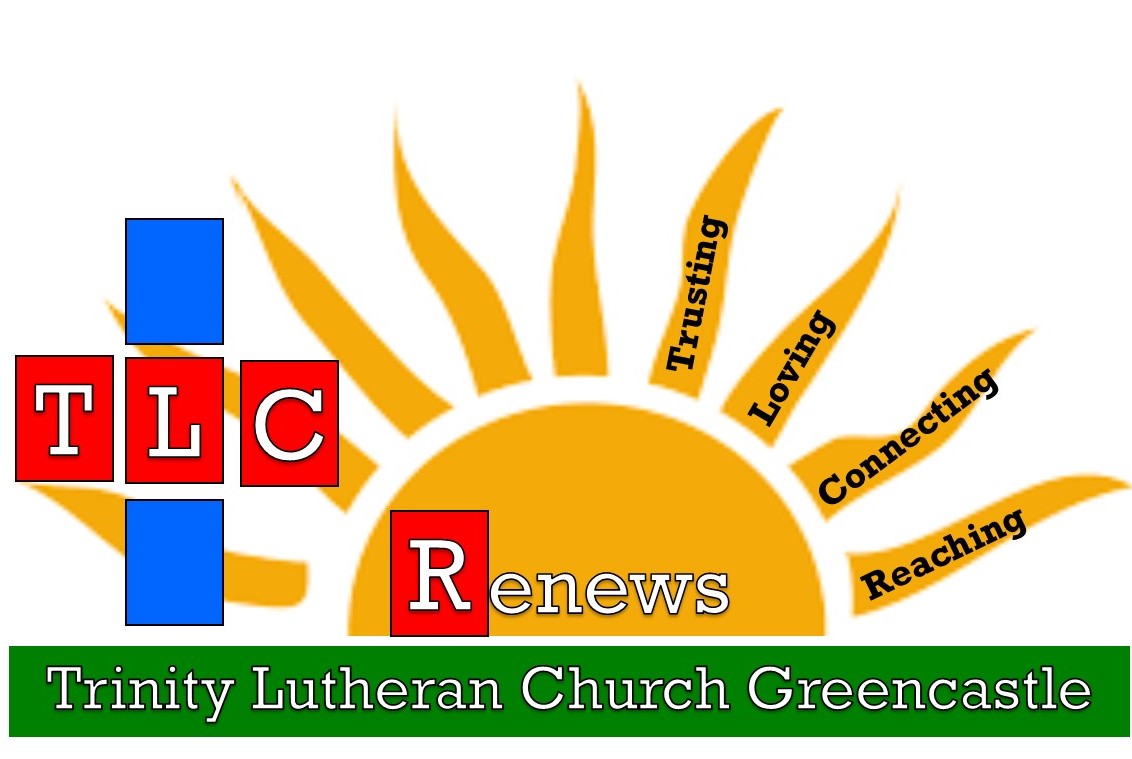 Come and experience the love of God in Christ Jesus with us.
Trinity is
. . . A Place to Worship . . .
. . . A Place to Grow in Your Faith . . .
. . . A Place to Use Your God Given Gifts In New Ways!
Join Us!
If you're curious about what a truly nurturing community of believers is like, then you should come to the Join Us section to find out how you can get involved. We look forward to welcoming you in our fellowship.
"New Doors Opening"
Check out the New Doors Opening site which helps in the area of life issues and spirituality. This site will change several times during the year.
What is the ELCA?
Find out about the Evangelical Lutheran Church in America and the history of this wonderful organization on our What is ELCA page.
 1186 Jason Drive, Greencastle, PA 17225
717-597-9348
  Sunday Worship at 10 am;  Fellowship begins 9:15 am
Sunday School for all ages:
8:30 am (except June-August)
When Visiting Trinity You Can Expect
A warm and welcoming environment
Structured worship with Biblical and relevant preaching
10 AM Worship on Sunday
Blended Traditional and Contemporary/Informal Music style
Celebration of Holy Communion every Sunday.
A time of fellowship to connect with others before service at 9:15 AM
Educational opportunities for all ages at 8:30 a.m (except June – August)
A follow-up visit by someone from the congregation and an invitation to return
Visit Us
Trinity Lutheran Church is a congregation of
the Evangelical Lutheran Church in America (E.L.C.A)
and the Lower Susquehanna Synod (L.S.S. - E.L.C.A)