Sharing Christ in word and deed
Announcement:
Join us for a special congregational meeting after worship on October 27 regarding the bank proposal for the bank loan coming due December 2019.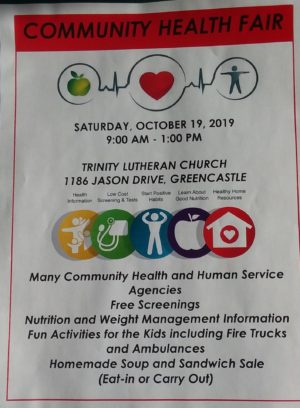 Community Health Fair!  You are invited!
Saturday, October 19, 9AM to 1PM
Flu Shots will be available: $20 or free with Medicare
Yoga
Drug Collection by the Greencastle Police: 10AM – Noon
Kids activities including crafts, face painting, fire and rescue trucks
Screenings and health information
Homemade soup and sandwich sale for lunch in or take-out:  9 – 2

ham and bean, vegetable and chicken corn soup available
ham, hot dogs and steamer sandwiches
Renewal is in the air!
Trinity has begun the R3 intentional program of renewal.
We are growing deeper and richer relationships with God, each other and our neighbors.
We are learning new skills to notice God active in our lives.
Homework after the first workshop:  Each Sunday stop by the renewal table and fill out the slip of paper sharing an experience of God you had.
Hold onto your hat!  The Holy Spirit is moving at Trinity.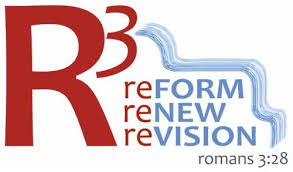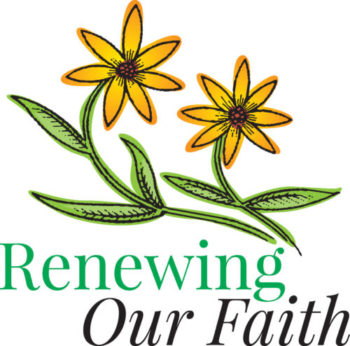 We are a congregation of faith learning to love God, one another and our neighbors.
Sunday mornings we gather as one family.
8:30 AM Sunday School for all ages
9:15 – 9:45 AM join us for fellowship before worship.
10 AM we worship with a blended service including Holy Communion.
Join us as we explore together what it means to live a Spirit centered life.
Trinity is moving forward!                                                                                   We now have a Vision AND a Logo.
TLC Renews
Trinity is a congregation who continues to:
Trust God
Love and Connect with God and each other.
Reaching out to all God's children
so that we continue to Share Christ in Word and Deed.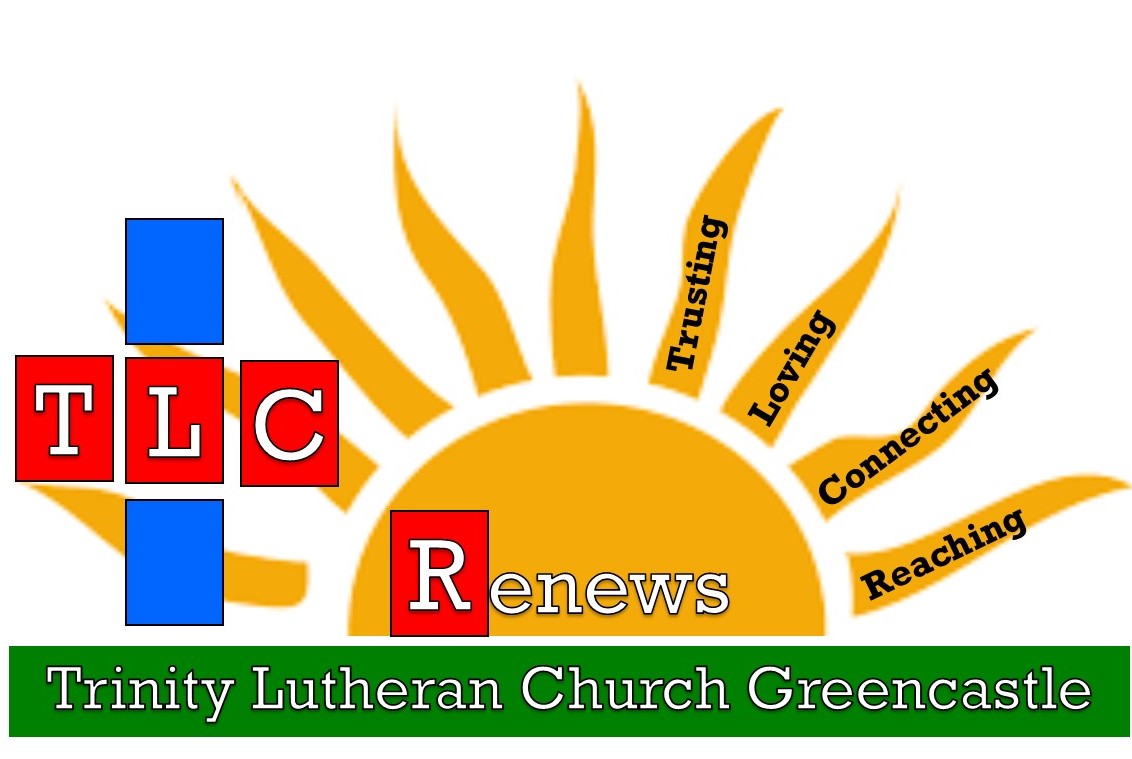 Come and experience the love of God in Christ Jesus with us.
Trinity is
. . . A Place to Worship . . .
. . . A Place to Grow in Your Faith . . .
. . . A Place to Use Your God Given Gifts In New Ways!
Join Us!
If you're curious about what a truly nurturing community of believers is like, then you should come to the Join Us section to find out how you can get involved. We look forward to welcoming you in our fellowship.
"New Doors Opening"
Check out the New Doors Opening site which helps in the area of life issues and spirituality. This site will change several times during the year.
What is the ELCA?
Find out about the Evangelical Lutheran Church in America and the history of this wonderful organization on our What is ELCA page.
 1186 Jason Drive, Greencastle, PA 17225
717-597-9348
Summer Sunday Worship at 10 am;  Fellowship begins 9:30 am
Sunday School for all ages:
10:00 am (except June-August)
When Visiting Trinity You Can Expect
A warm and welcoming environment
Structured worship with Biblical and relevant preaching
10 AM  Summer Worship  Time
Blended Traditional and Contemporary/Informal Music style
Celebration of Holy Communion every Sunday.
A time of fellowship to connect with others before service at 9:30 AM
Educational opportunities for all ages at 10 a.m (except June – August)
A follow-up visit by someone from the congregation and an invitation to return
Visit Us
Trinity Lutheran Church is a congregation of
the Evangelical Lutheran Church in America (E.L.C.A)
and the Lower Susquehanna Synod (L.S.S. - E.L.C.A)