Sharing Christ in word and deed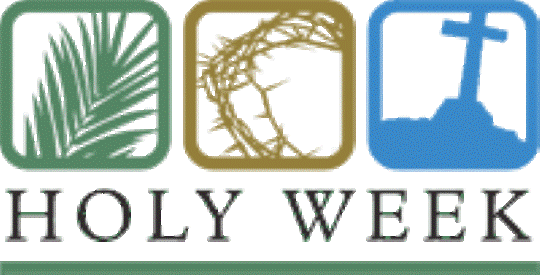 Opportunities to worship during Holy Week
Palm Sunday, 4/14:
8:30AM Traditional with Holy Communion
11AM Informal NewHope service with Holy Communion
Sing 'Hosanna' as Jesus rides into Jerusalem on a donkey then cry "Crucify   Him" as we re-enact the Passion.
Maundy Thursday, 4/18:
11AM with Holy Communion
  7PM with Holy Communion, Foot Washing, Stripping of the Altar
Good Friday 4/19:
11AM and 7PM Tenebrae (Service of Light and Dark)
Walk with Jesus through His passion.
Easter Vigil, Saturday, 4/20:
Sit with the family to hear stories of our roots and then experience once again the empty tomb and the victory of Jesus over death. 
Easter Sunday, 4/21:
8:30AM Traditional service with Holy Communion
11AM New Hope informal service with Holy Communion
God is doing a new thing.  Come celebrate Resurrection from the ashes of defeat.
Come and experience the love of God in Christ Jesus with us.
Trinity is
. . . A Place to Worship . . .
. . . A Place to Grow in Your Faith . . .
. . . A Place to Use Your God Given Gifts In New Ways!
Join Us!
If you're curious about what a truly nurturing community of believers is like, then you should come to the Join Us section to find out how you can get involved. We look forward to welcoming you in our fellowship.
"New Doors Opening"
Check out the New Doors Opening site which helps in the area of life issues and spirituality. This site will change several times during the year.
What is the ELCA?
Find out about the Evangelical Lutheran Church in America and the history of this wonderful organization on our What is ELCA page.
 1186 Jason Drive, Greencastle, PA 17225
717-597-9348
Sunday Worship at 8:30 and 11:00 am
Sunday School for all ages:
10:00 am (except June-August)
When Visiting Trinity You Can Expect
A warm and welcoming environment
Structured worship with Biblical and relevant preaching
Two Worship Service Times
Celebration of Holy Communion every first and third Sunday at 8:30a.m.
Celebration of Holy Communion every Sunday at 11:00a.m.
A time of fellowship to connect with others
Educational opportunities for all ages at 10 a.m.
A follow-up visit by someone from the congregation and an invitation to return
Visit Us
Trinity Lutheran Church is a congregation of
the Evangelical Lutheran Church in America (E.L.C.A)
and the Lower Susquehanna Synod (L.S.S. - E.L.C.A)